Introduction
First, I have to apologize for my lack of adding content to my personal blog. It's not that I have lost any interest or focus in dividend investing, but my time that I can allocate for personal blogging is less than what I may have hoped. I hope to get into a better cadence this year and jot thoughts down on what I am looking at in real time.
With that said, 2018 wrapped up and it's time to move forward in 2019. In 2018, I collected over $7,000 in dividends! That was over 20% more than I earned in 2017.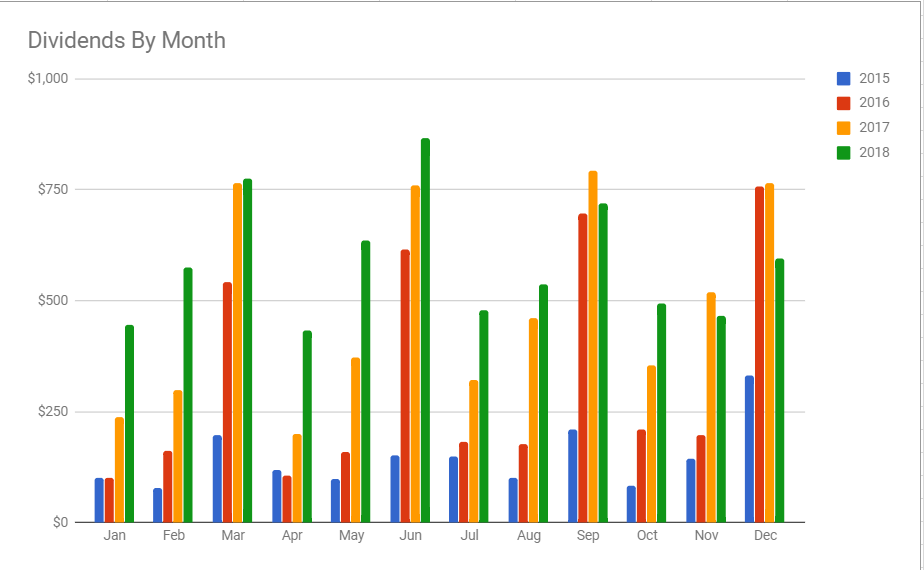 Part way through the year I decided to allocate a bit of my portfolio to growth stocks. I sold out of some dividend paying names and rolled those proceeds into stocks that either pay no or very low dividends. I sold my shares of the U.S. Schwab Dividend Equity ETF (SCHD), Verizon (VZ), Duke Energy (DUK) among others. In turn I bought shares of Visa (V), MasterCard (MA), Square (SQ), PayPal (PYPL), Twitter (TWTR) and even iQiyi (IQ).
My income on the tail end of the year obviously took a nose dive with all of those funds diverted.
During my 2018 analysis write-up (read here), I highlighted a few thoughts I had opined about while reflecting how the year went.
Dividend reinvestment is not black or white
Historically I have always reinvested my dividends across the board. Every holding, no exceptions was reinvested. The math is solid behind that rationale, you dollar cost average your way into positions over long periods of time with free reinvestment. Some stocks even offer discounted shares for reinvested dividends though the vast majority don't.
I ran into two potential issues with reinvesting for some names. Higher yield holdings I own partly for their cash flow. I want that cash flow in hand to re-apply as I best see fit. With every dollar reinvested, I lose that flexibility.
The second issue which dovetails off of that was having positions providing too much of my income. It sounds like a first world problem but having one individual holding providing 10%+ of my dividends actually made me a little uncomfortable. Any sort of hiccup like a dividend cut would put a noticeable dent in my dividend stream and is what I am trying to avoid.
My feelings are that transaction costs are virtually negligible and dividends will still be compounded back into dividend earning shares, it just may not be the original company. I like to have a steady stream of firepower that I can apply as I see fit throughout the year.
Being more data-dependent
As a corollary to my first point, I am going to be more data-dependent with my investment timing. I built Custom Stock Alerts to facilitate the timing of my investments.
I love looking for companies that are going through temporary headwinds (or not) and are hitting a new 52 week low. That gives me the best purchase price and highest yield of any investor that year. Depending on "why" the stock has hit a low, it also gives me the largest margin of safety. Everyone loves a good bargain so why is the stock market any different?
Just like a new low may make an interesting time to buy shares, a new high may signal an opportune time to trim some shares. With a large watchlist like mine, something is always on sale and something is always at a premium. Shares can be sold, profits gained and rolled into lower valuation stocks. This process can perpetually add to my dividend stream.
The ex-dividend alert tool on Custom Stock Alerts will also give me a heads up before a stock is set to pay a dividend. Depending on other factors, it may make sense to dive in before a dividend to capture the payment. For the majority of my investing, this is in a tax advantaged retirement account. Of course be aware there are tax implications if you do this in a taxable account.
Lastly, using some of these techniques lend themselves to the exciting world of options. I haven't actually used this yet so I don't pretend to be any sort of expert in the topic but writing covered calls or selling puts can enhance income. This is a topic well out of scope for this post but it fits in nicely using data available to me.
You don't have to swing at every pitch
Patience is a virtue in life and investing is no different. If you manage your portfolio at all, you need to be willing to sit and wait for a good investment opportunity.
To be honest, I started getting really excited Christmas Eve. My own personal feelings aside, seeing the market hit levels it did was exciting for an investor with some cash available. Unfortunately it did not last though I am optimistic we may see a pullback before long. Just remember high stock prices only benefit net sellers.
Passive investing is OK!
There are a slew of great ETF options that can be added to make a well-rounded portfolio. ETF is not a four letter word. Some dividend investors will avoid ETFs at all costs – in literal sense too – because of perceived shortcomings.
Yes, payments may be variable, the holdings may be variable and there are some expenses associated with owning ETFs. On the flip side, they are incredibly diverse and can fit into every niche you can imagine. Want REIT exposure? There are ETFs for that. Want more specific mortgage REIT exposure? There are ETFs for that.
I'm looking to round out my portfolio with some different ETFs, in particular in areas where I feel my knowledge is lacking. I don't feel comfortable buying things like individual MLPs, mortgage REITs, BDCs, it's just out of my area of expertise. I'm more comfortable analyzing C-corps and some larger REITs.
A Defined Investing Framework
One of my other goals for 2019 is to fully flesh out my investing framework. At a high level, I'm going to further define the proportion of my portfolio that fits into these areas; growers, dividend growers and high yielders.
When presented with an investment idea I will have a series of questions to answer beyond just analyzing whether it may be a good company or not.
What is the opportunity here?
Am I excited about the business?
What are expected returns?
What are the risks and downside?
How does this fit into my portfolio?
Does it offer something materially different than an equivalent ETF?
Those are just a sample and the framework will be defined as the year progresses. The aim is to ultimately make sure I am allocating my investment dollars as best as possible to fit my goals.
Conclusion
I love dividends and how they are helping me progress towards my financial goals. To recap, I collected over 20% more dividends in 2018 than in 2017 and over $7,000.
After I scratched the itch of adding a few growth stocks, I am ready to really push hard with more dividend paying stocks this year. I'm working on allocating a percent of my portfolio towards high yielding opportunities. ETFs can be a great tool to help me build this portion where I personally feel that I lack the expertise required.
By combining some of the lessons that I reflected on with a-to-be-defined investing framework, I'm looking forward to moving forward in 2019.
Be sure to check out my dividend portfolio in real time, any time, here.