Summary
The two juggernauts in telecom, AT&T and Verizon offer investors a 5%+ dividend yield
Public Storage is the leader in self storage units and has phenomenal financial flexibility
Realty Income is a perennial investor favorite and "The Monthly Dividend Company"
All four companies offer investors attractive dividend growth opportunities at currently depressed levels
With the stock market seemingly hitting new all-time highs every week, the common narrative is there are no good investing opportunities left.  As a dividend growth investor I am always scouring for stocks that represent a good value to the overall market.
I present four dividend growth stocks worth adding here.
AT&T (T)
AT&T alongside Verizon, are the two dominate players in the US wireless market.  The investment thesis behind AT&T revolves around both their position in the wireless market and ability to add new revenue by becoming more than the "dumb pipe".  The DirecTV acquisition and the pending Time Warner deal are moves in this space to broaden their revenue streams.
The headwinds the company could face involve pricing power erosion in a mature wireless market.  Additionally, the Time Warner deal with add $40B more debt to the balance sheet and $2B in dividend obligations per the shares issued as part of the deal.
Morningstar Take
Morningstar gives the company a narrow moat, giving them credit based on the breadth of their network and scale efficiency.  AT&T along with Verizon control 70% of the wireless market in the United States.  With a current price target of $40, shares are approximately 8% under target.  CFRA Research currently has a $45 price target representing 20% upside.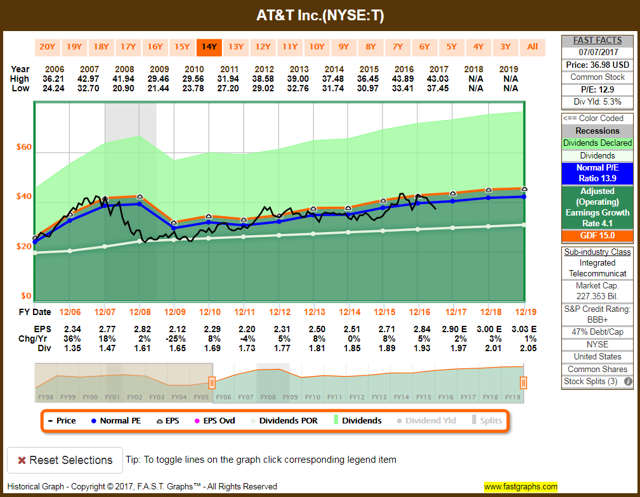 For dividend growth investors, shares are attractively valued, coming in under 13x adjusted earnings with a 5.3% dividend yield.  Growth in earnings and dividend should continue in the low single digits for the foreseeable future.  The company has a BBB+ credit rating from S&P though all the ratings agencies will be watching the company post Time-Warner deal.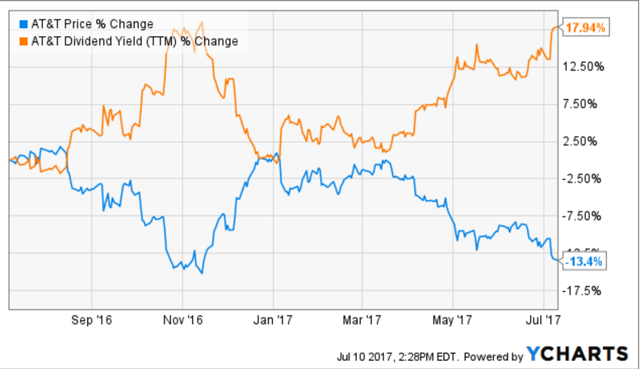 Shares are attractive now as they have dropped 13% over the past year which has pushed the yield (along with a dividend hike) up nearly 18% over the same time frame.  Based on yield alone, shares have not been this attractive since November 2016.

Per the SimplySafeDividends database and toolset, the company rates very highly in both overall dividend safety and yield.  Just don't expect large growth going forward.
Based on the current yield with earnings growth investors may expect about 8% annual returns.  Shares appear additionally attractive now with the current price within earshot of their 52 week lows.
Verizon (VZ)
Verizon is the leader in the US wireless industry.  As mentioned, they and AT&T share about 70% of the overall market.  The company generates lots of free cash flow and has the lowest wireless customer churn.  They boast the broadest network coverage of any wireless company.  Verizon is attempting to move into "value-add" services with acquisitions of AOL and Yahoo, though they appear at this time to be rather dubious.
The bears will point out that competitors are catching up in coverage and that pricing pressures will hurt top line growth going forward.  T-Mobile and Sprint are attempting to disrupt the industry with unlimited data plans.
Morningstar Analysis
Morningstar gives the company a narrow moat, similar with AT&T, with the network coverage and scale being their strongest assets.  The firm has a price target of $48 so with shares around $44 there is a potential 9% upside. CFRA Research is more generous with a $52 price target representing 18% upside.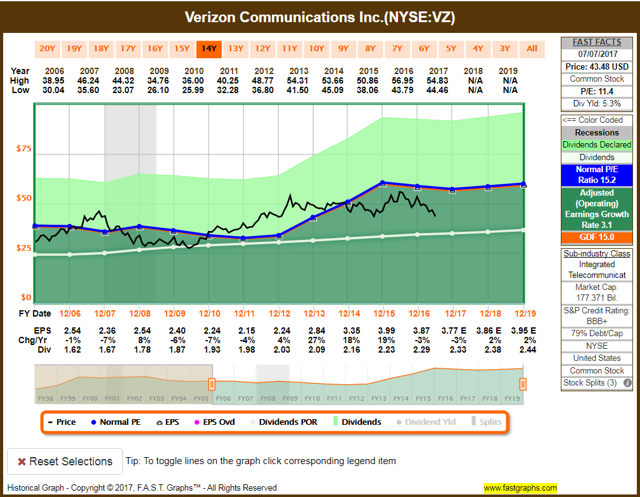 Shares appear to represent a nice value, trading at 11 times adjusted earnings and sporting the same 5.3% dividend yield as AT&T.  Earnings are expected to come in slightly lower this year before resuming a low single digit trajectory.  The company carries a BBB+ credit rating from S&P.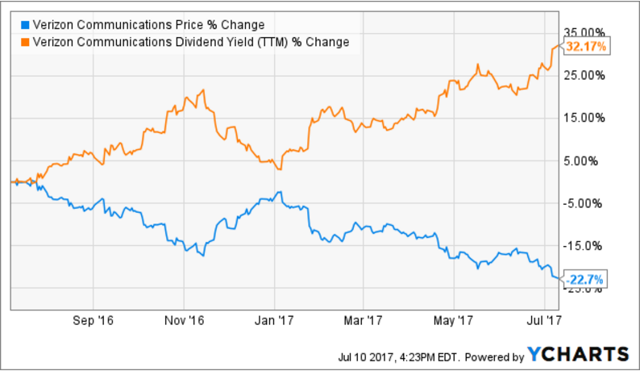 Shares have been punished more heavily than AT&T over the past year, down 23% with the overall dividend yield up 32%.are attractive now as they have dropped 13% over the past year which has pushed the yield (along with a dividend hike) up nearly 18% over the same time frame.  In fact, the yield on Verizon has not been this high since early 2012!

Per the SimplySafeDividends database, the company rates very highly in both overall dividend safety and yield.  Just don't expect large growth going forward.
With earnings expected to decline this year, investors may need to wait patiently if they decide to add at these levels before seeing a reasonable return.  Shares appear additionally attractive now with the current price within earshot of their 52 week lows.
Public Storage (PSA)
Public Storage is a storage REIT, specializing in the self-storage industry. They are the biggest player in this space with a long term track record of success.  These facilities benefit from several tailwinds such as low capex and a steady supply of people moving about the country or needing storage items.
Public Storage is a unique REIT in the sense of its preferred funding is actually through preferred shares rather than debt issuance.  As a result, Public Storage has a pristine "A" S&P credit rating with incredible flexibility when investment opportunities come around.
Perhaps the biggest tailwind coming to the company are the baby boomers and all of the downsizing that will be occurring over the next two decades.  Management has been building facilities in markets where supply is limited and also where population growth is expected to be the largest.
To be fair, there are potential headwinds as well; a lot of additional supply is being built as a result of demand in these targeted markets.  It's also possible we are seeing an occupancy peak (has exceeded 95% in some markets) with a general long term trend around 90% occupancy.  Some of these factors may limit the ability to pass along price increases to customers.
Morningstar Take
Morningstar last had a "Fair Value Estimate" of $237 per share which is approximately 15% higher than share prices today.  As a comparison point, CFRA Research put their price target at $205 which puts shares very slightly above that level.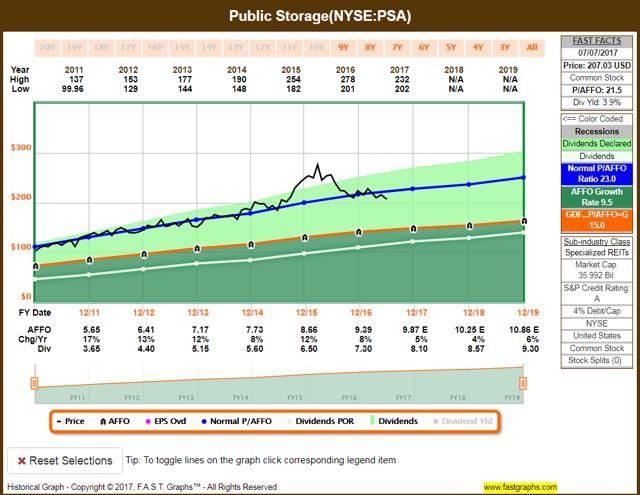 Looking at the FAST Graph above, the blue line represents the average P/AFFO (price to adjusted funds from operation) over the time horizon.  While shares typically have tracked that line pretty closely, they became decoupled during 2016 and have since overshot that line where shares are nearing a 4% yield.
In fact, looking at a 10-year chart, the dividend yield hasn't been this high outside of the Great Recession.  That alone should have income investors more curious.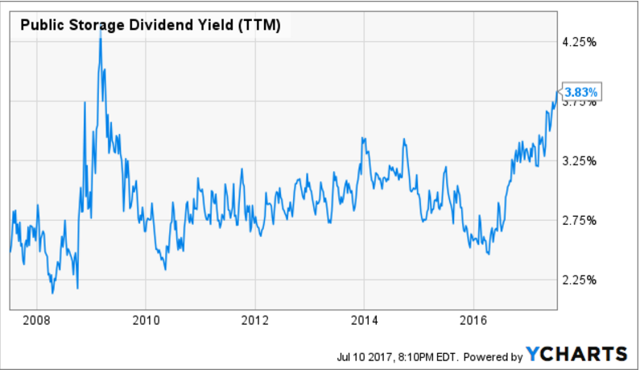 In fact, when looking at the change in expectations from a year ago, investors today are able to secure a starting dividend 43% higher with a 21% discount on share price.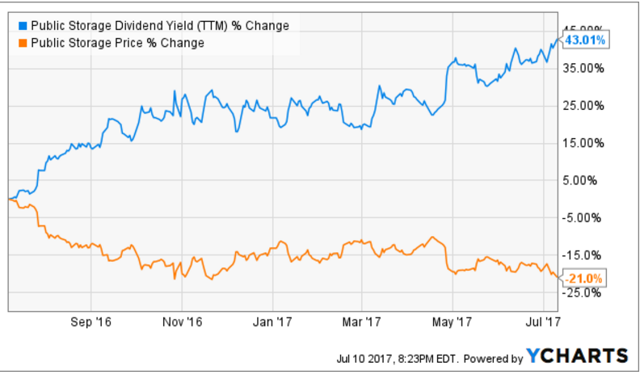 Though the industry may face some short term headwinds with supply coming on board and potentially seeing a peak in occupancy, Public Storage is still the big fish in this pond.  The company is conservatively financed and can wait for acquisition targets to become available.
Realty Income (O)
Lastly I want to highlight Realty Income.  The name should come as no shock to individual investors or retirees, especially when the company bills itself as "The Monthly Dividend Company".  Realty Income is the leader in triple net lease retail space.
Being the leader affords Realty Income several advantages – the lowest WACC (weighted average cost of capital) secures funding at the most optimal level to management and shareholders.  That same cheap capital allows management to buy the best opportunities without placing risky bets.  The healthy spread between the average cap rates for their commercial properties and the cost of capital is what keeps this engine rolling year after year.  Tenants are mostly investment grade which also reduces exposure from retail threats.
Bear Risks
Morningstar highlights a few potential bear threats.  Due to the company's size, it may take more and more attractive acquisitions to move the needle.  It's possible management could make more risky acquisitions.  Another threat could be the minimal built in rent risers in the event of rising inflation and interest rates.
CFRA has a 12-month $62 price target on shares while Morningstar's target is currently under evaluation by a new analyst.
Analysis on Fast Graphs
Shares have traded down significantly since peaking at $72 in 2016.  In fact, we are once again near 52-week lows.  Per the FAST Graph, shares are trading essentially inline with its historical P/AFFO level.  The current 4.6% dividend yield offers investors a nice rate to jump in and let the monthly compounding engine begin (or continue for existing holders).  The company also features an investment grade BBB+ credit rating from S&P.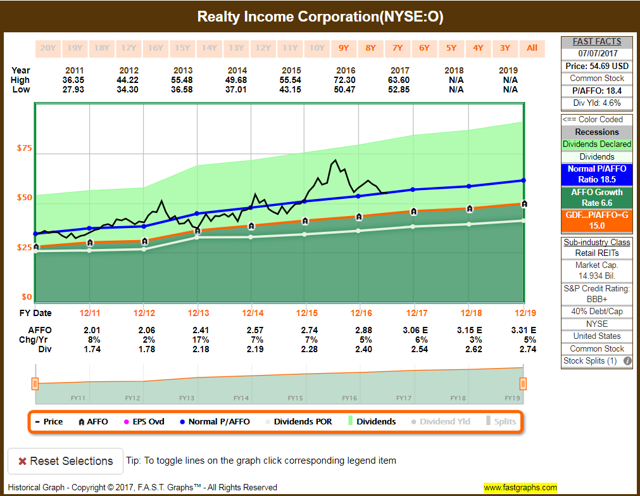 AFFO is still expected to grow at a mid single digit clip for the next few years.  This will support future steady dividend growth for investors.
The exuberance seen last year is also visible in this one year chart from YCharts.  Meshing the percent change of both the current dividend yield and price shows the divergence shares have taken since peaking.  The yield is up nearly 40% while the share price is down 23%.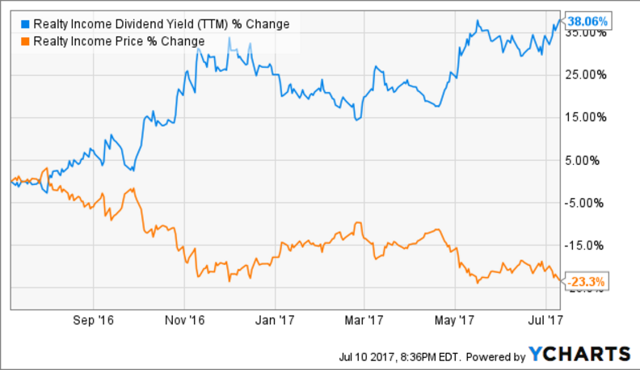 Conclusion
I believe these four opportunities are some of the better ones currently for income investors.  As a disclosure I did add to all four of these holdings recently.
I do find AT&T to currently be the better bet in the telecom space but I wouldn't rule out Verizon attempting to make a larger splash with an acquisition.
The two REITs highlighted benefit from being the big fish in their respective ponds and are in great financial standing.
While none of the prices today represent 2009 "hero" pricing levels, they all give investors a fair shake and in my opinion are worthy of deeper analysis.