Dividend Portfolio Update
This is my dividend portfolio update article series.  I like to highlight a few facts and figures from the month.  I'll share my income, any portfolio changes, any dividend increases (or cuts) and anything interesting that I feel to talk about.
Highlights
I collected  $760 in dividend income during June
I made 7 trades during the month; 4 sales and 3 buys
At the end of the month I held 51 stocks
Read The Intelligent REIT Investor
Big change to Custom Stock Alerts!
 Dividend Income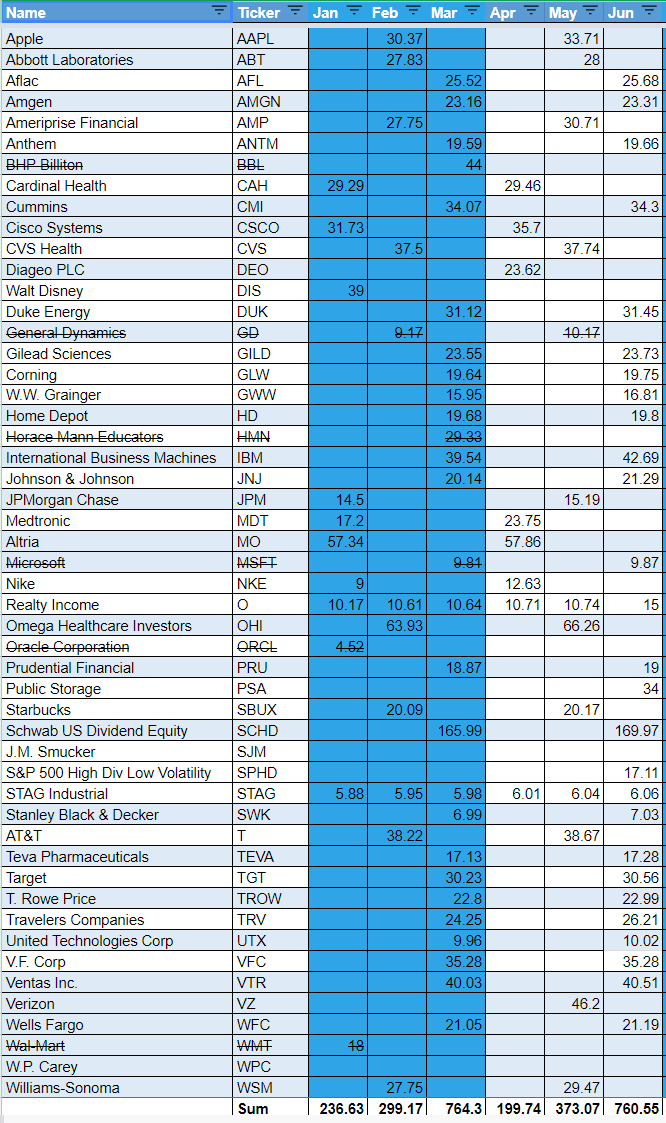 This is a snapshot of my dividend income thus far this year.  You can always check my live portfolio here.
June was another strong month, I love the last month in every quarter those are my powerhouse months.  While the dividend number was slightly lower than March, there were good reasons.  I did not receive dividends from BHP Billiton which only pays semiannually and I also missed the payment from Horace Mann by selling the stock.
Bolstering that income however, besides the usual impact of compounding, was receiving first payments from Public Storage and the PowerShares S&P 500 High Dividend Low Volatility ETF (better known as SPHD).
Income Snapshot
These three graphs sum up my dividend growth metrics.  The top is a quarterly growth metric, the middle is monthly and the third is my annual forward looking income.
With the second quarter now complete, my final tally of $1333 received was 51% higher than the second quarter of 2016.  Not too shabby!
Comparing June itself versus last year, the dividends received of $760 were 23% higher than the $615 from last year.  I suspect a rate like this may be sustainable for a few years.
Lastly my forward looking income jumped 2% month over month due to my purchases and divestitures.  Additionally the sheer number of $6093 is 53% higher than what I was projecting last year at this time.  Awesome!
Purchases
This month I made several changes in two different sale stints.  In the beginning of the month I sold Horace Mann Educators (HMN), Microsoft (MSFT), General Dynamics (GD) and my remaining shares of BHP Billiton (BBL).  I took about 66% of the sale proceeds and bought shares of the aforementioned SPHD.  The reasoning behind this was multifold:
Shares were expensive historically speaking in an expensive market
Horace Mann in particular did not carry a high enough credit rating to my liking and earnings growth was very choppy even on an adjusted basis
The positions were generally small, provided little in terms of diversity and income to my portfolio while still having a certain amount of homework required
This set of trades was heavily detailed in it's own article on Seeking Alpha.
Summary of all the Trades
| | |
| --- | --- |
| Initial Lost Income | $260.50 |
| Capital Gains | $2,032.37 |
| Money Freed From Sales | $10,177.36 |
| Capital Gains | 24.95% |
By selling the aforementioned shares, I received $10,177 in total with an overall 25% capital gain mark.  This was also offsetting a loss on BHP Billiton so the other three had done even better.  The combined income I lost was $260.
SPHD is a bit of a higher yielder, starting at 3.80% so it would not require as much investment to cover the income.  The ETF also pays monthly which is nice and is rebalanced semi annually.
At the time, I needed 169 shares to replace the $260 of income (I bought 175) which freed up $3,256 or 32% of the initial sales.  Good move I think!  That money can then be allocated into better dividend opportunities.
| | |
| --- | --- |
| SPHD Yield | 3.80% |
| SPHD Price | 40.45 |
| SPHD Dividend Rate | $1.53 |
| Capital To Replace Income | $6,855.14 |
| Shares Required | 169.47 |
| Leftover Capital | $3,256.42 |
| Freed Cash Percent | 32% |
Other Trades
That covers the four sales and one buy.  The other two buys this month were Ventas (VTR) and Williams-Sonoma (WSM)
After reading The Intelligent REIT Investor by Brad Thomas and Stephanie Krewson-Kelly I felt more compelled to add some additional real estate exposure in my portfolio.  Past studies performed and highlighted in the book showed an optimal exposure rate of about 20% to real estate.  In general, real estate moves independently of other stocks and offers great risk adjusted returns.
Being slightly under 20% allocation and after finding some targetted subsectors in real estate, I decided to add to my winning healthcare holding of Ventas.  Ironically, or perhaps not so, Brad Thomas had recently written an excellent article on Ventas here.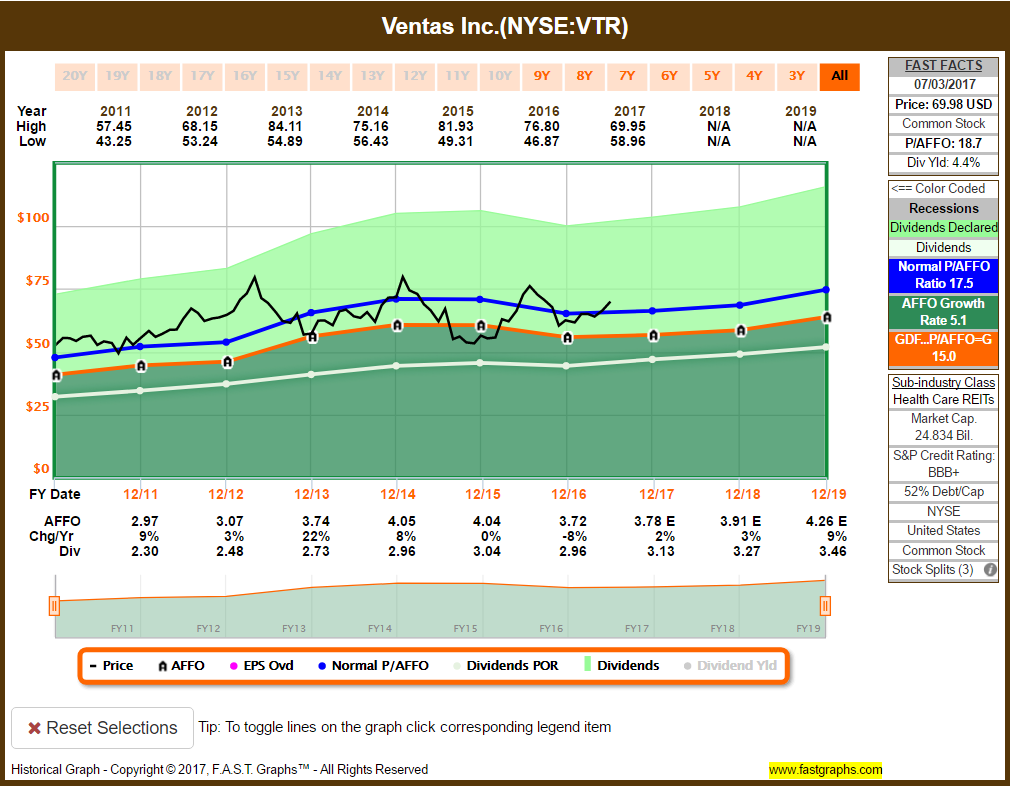 While not the best value historically speaking, shares offered a fair trade at these levels.  In fact one of my takeaways from the book is that a "higher" P/AFFO level is quite beneficial as it keeps the company's WACC (weighted average cost of capital) lower as they are able to raise more cash through less share dilution.
Healthcare in particular I believe has an incredible tailwind coming over the next several decades as the boomers retire and consume more healthcare.  Ventas is the second biggest player behind Welltower but appears positions to be the best operator in the space.
Combine those facts with reasonable valuation and it made sense to add to my holding here.
Williams-Sonoma
After reading over the recent earnings report, I felt compelled again to write about the company in a Seeking Alpha article.  I continue to like what I see with the company and this is one of my favorite plays in retail.
The company reported a slight earnings beat though the brand results were mixed.  The company is unique in several respects for a retailer:
More than half of revenue comes from online sales where the physical stores are more representing a showroom
Company has 0 debt!
Shares continue to languish alongside the rest of the retailers though I contend they are very differently positioned.  The company still offers a >3% dividend yield that is incredibly covered by cash flow.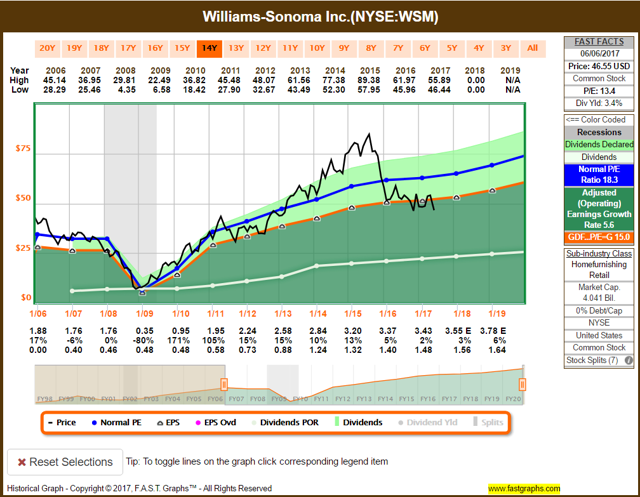 Custom Stock Alerts
Lastly, I want to let everyone know that I changed the pricing model for Custom Stock Alerts.  I removed the trial so now anyone can sign up for free, with a couple caveats:
Limited to 5 stock alerts
Ad supported
New alert types (I have since added the 50 and 200 day moving averages as alerts) are only for paid users
New tools may not be for free users, I'll decide on a case by case basis
Honestly, I do want everyone to use my tool, I love it, I get alerts all the time that I frequently take action on.  I also put in a ton of long days starting at 4am to be able to bring this tool to fruition so I would love any kind of support.
Conclusion
Current Total Balance: $220,945(up from $216,778)
Current Cash: $3,686 (up from $1,410)
I had another solid month and made what I hope to be some good dividend growth purchases.
As always, the power of dividend growth investing is the three-headed monster:
Purchasing new shares generates income
Reinvested dividends generate income
Yearly raises generate even more income
As always, let me know your thoughts in the comments and check out Custom Stock Alerts – now for free!